Ovant's co-founder Christopher Bothwell and MasterChef Australia finalist Jessica Arnott have two of the finest palates in Australia. They have come together to create a fabulous three course menu of food and Ovant cocktails. Christopher's simple and delicious drinks match perfectly with Jessica's contemporary and easy to prepare recipes.
Royal Glaze Pork Ribs
paired with
Royal Number 8
There's no better way to connect around the table than by digging in and getting a little messy together. Jessica's Royal Glazed Pork Ribs are abuzz with fresh ginger and warming undertones of star anise and cassia - truly a superstar dish for your guests to dig into with their hands.
To match, Christopher has come up with a spin of everyone's favourite English summer tipple - the Royal Number 8. Ovant's Royal is based on similar spices to Jessica's glaze, creating fantastic complementary flavours. The addition of lime and fresh garden fruits creates the cut through for the richness of the pork bringing the course together.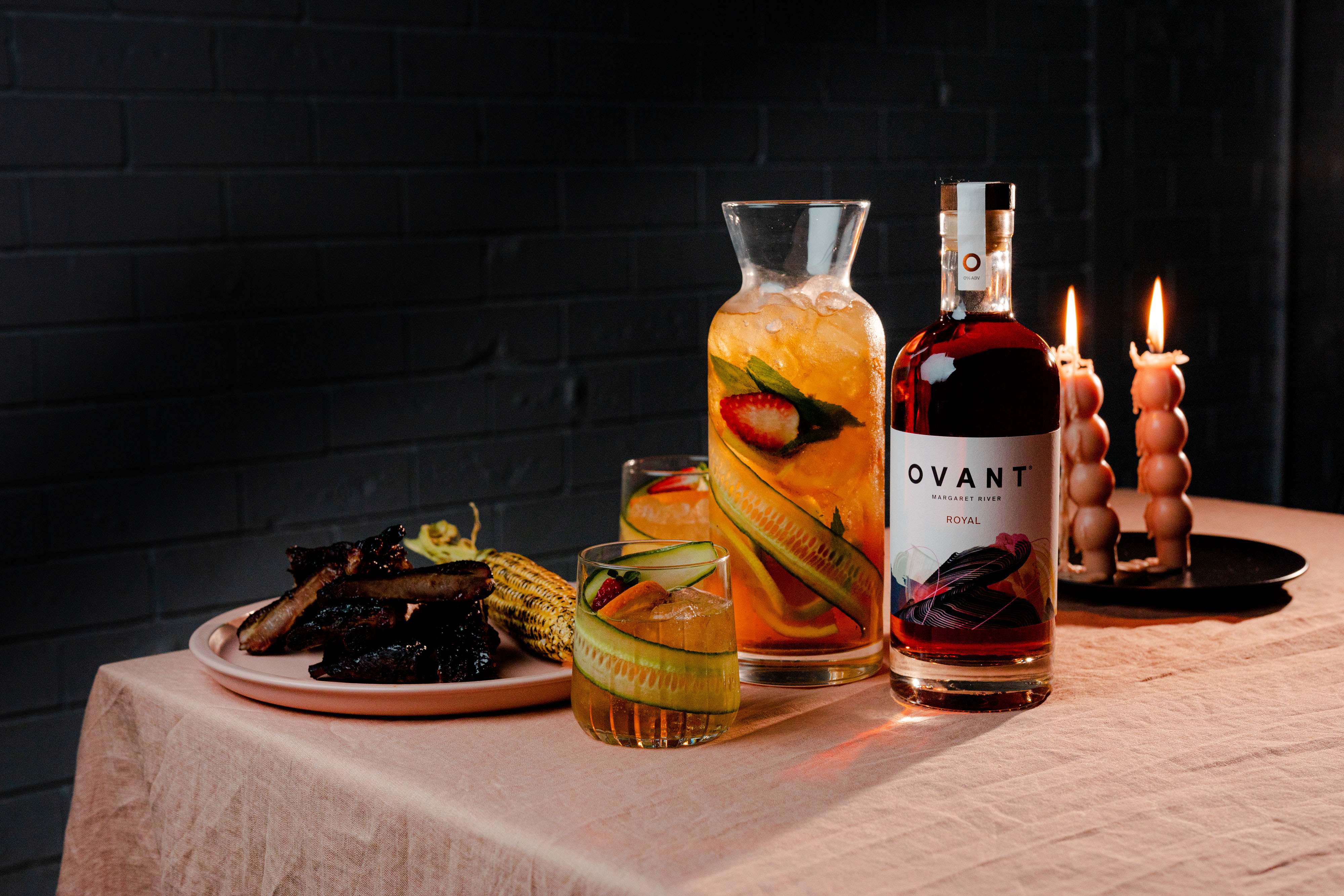 ROYAL NUMBER 8
INGREDIENTS

180 ml Ovant Royal
30 ml Fresh Lime Juice
60 ml Sugar Syrup
60 ml Fresh Apple Juice
750 ml Dry Ginger Ale


GARNISH

1 small cucumber, sliced lengthways. 6 strawberries, quartered. 1/2 lemon, 1 lime and 1/2 orange, cut into wedges. 6 mint sprigs and cubed ice.


GLASSWARE & TOOLS
Jug, rocks glasses, barspoon


TECHNIQUE

Place garnish into the base of the jug.
Pour in Ovant Royal, sugar syrup and fresh lime juice.
Add ice and dry ginger ale and stir.
Serve in rocks glasses filled with ice.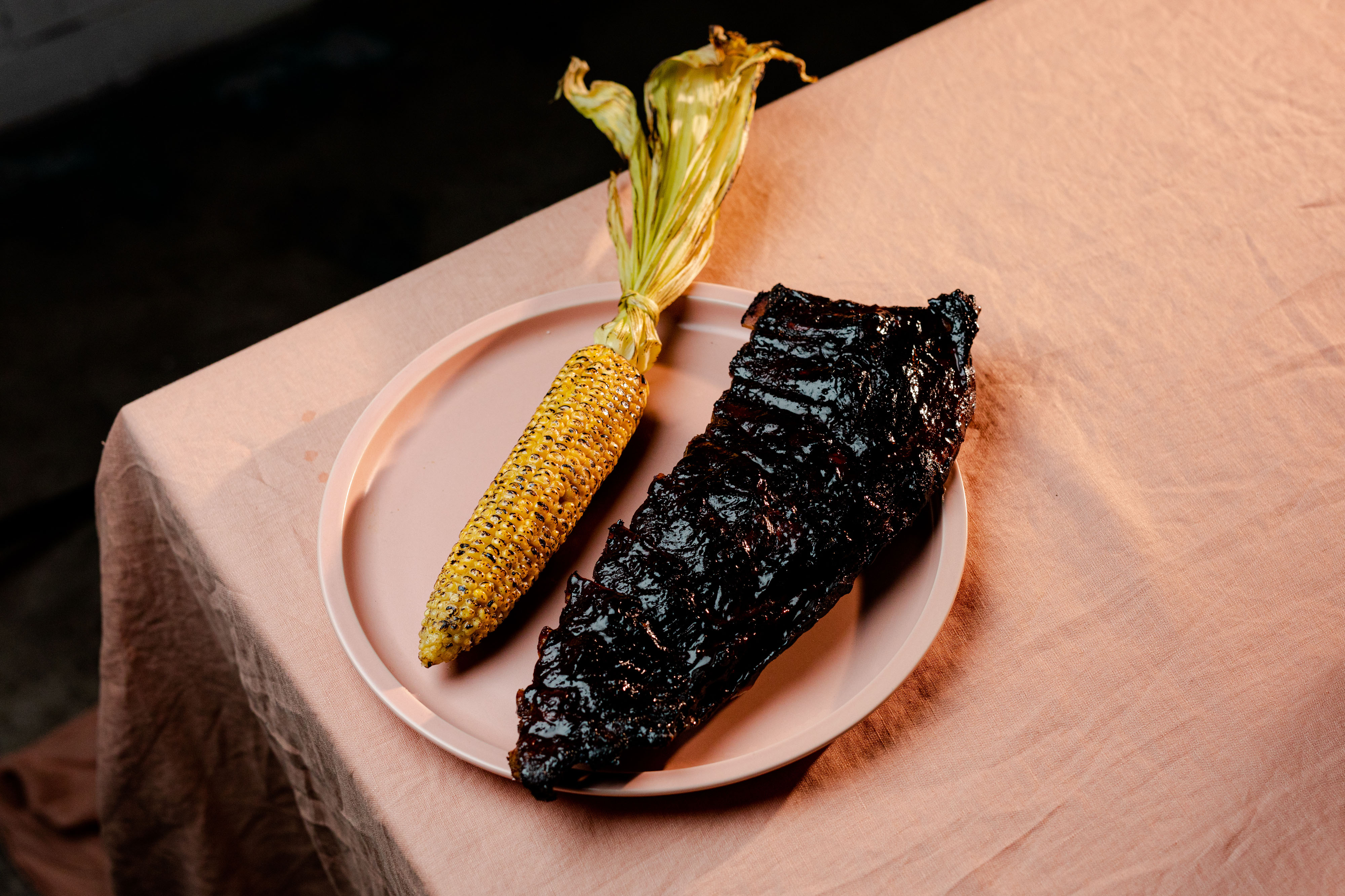 ROYAL GLAZED PORK RIBS
INGREDIENTS
1.2kg pork rib racks
3 tbsp dark brown sugar
1 tbsp flake salt
1 tbsp plus 1 tsp Chinese five-spice powder
½ cup Ovant Royal
½ cup hoisin sauce
½ cup soy sauce
3 tbsp honey
1 4cm piece fresh ginger
5 garlic cloves


METHOD

Preheat the oven to 180°. Line a rimmed baking tray with a double layer of foil.
Mix brown sugar, flake salt, and 1 tbsp of Chinese five-spice powder in a small bowl to make a rub.
Place the rib racks into the foil lined tray and season all over with spice rub, being sure to coat sides and edges and to gently press the rub into the meat. Pour 1½ cups water into the baking sheet, then cover tightly with foil. Bake until meat is very tender and bones are exposed, around 1.5 hours.
Meanwhile, whisk the Ovant Royal, hoisin sauce, soy sauce, honey, and remaining 1 tsp Chinese five-spice powder in a small saucepan to combine. Peel and finely grate the ginger and garlic cloves into the saucepan. Heat over medium and bring to simmer, whisking often. Cook, stirring, until just thick enough to coat the back of a spoon. Cover and set aside until ribs are ready.
When the ribs are cooked and tender, carefully remove and discard the top layer of foil from the baking tray. Change your oven to grill setting on high.
Brush half of the sauce over the ribs, turning ribs with tongs to coat both sides. Place on the top rack of the oven and grill until the ribs are lacquered in sauce and caramelised in some parts, around 4–5 minutes.
Remove from the oven and brush remaining sauce over. Transfer ribs to a cutting board. Cut in between each bone to separate ribs. Serve with grilled corn and a fresh green salad.